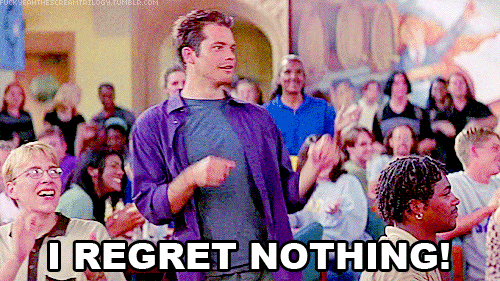 This has been an amazing year for the blog! We've seen people come and go, but Ezi & Mika stayed true to our selves. I found some new series that I can't believe I've never read. (**Shoutout to Quil Carter**)  I do have less favorite books then last year. I've found some really good new authors to add to the folks, and have found my calling in Ilona Andrews Kate Daniels Series! Shout out to my Snakes badgering me about this series. I've seen a few series come to an end. **Ugly Tears** for Rhys Ford Cole McGinnis Series coming to an end. I will never ever leave this series. Another favorite series had a surprise novella interested at the end of the year. Josh Lanyon surprised us with a new Adrien English novella that I've currently reading. I can't pick a single book as numero uno. I'll list them according to my read date. I'm feeling very generous and in the holiday spirit.  I'm offering a $20 Gift Certificate to Dreamspinner Press. All you have to do is comment below with your top 5 favorite books of 2016 and why!!!
Without further ado it's my favorite books of 2016!!!
It was my first favorite book of 2016. The ending to a series who I love, cried, laughed and swooned over. I will forever recommend this series, and talk about these characters to people. Rhys Ford has a fan for life and I'm happy to say in 2017 I'll be reading more of her books. Saranghaeyo guys!
I'm super surprised that I enjoyed this as much as I did. It stayed with me throughout the year and it was a favorite of mine to recommend. I don't do steampunk, but I do Heidi Cullinan steampunk series. I think you should definitely give this one a shot!
Are we really surprised this book made my list? Come on now, I gushed and raved over this book. Hell I own this book in different formats, E-book from two different vendors, an ARC copy of course, and a signed paperback copy. This duo of authors should school everyone else on co-writing. You can definitely see the difference of writings and character building, but I'm of mind where I love each author separately. This book gave me all types of feels and I <3 Kai & Garrett for ever!
I'm pretty certain Santino Hassell made my list a bunch of times so get ready for more. Not surprisingly that this series continues to rock. I mean every book in the series so far has been 5 star reads for me. I am completely obsessed with everything Raymond. I just wanted to put that out there. This book has one of my favorite scenes of the year as well!!! Oli & Caleb were adorable, but so freaking realistic as well.
This book had me reading it in one setting. I think from the second book or so I was interested in Lord Richard Vane and his valet Cyprian. It surpassed all my expectations. But then I think and realize its K.J. Charles dummy. There is only two authors writing Historical mm and she's one of them. I really did enjoy this series, and it was a hard feat beating my Wednesday by Wednesday boys, but I enjoyed this nonetheless.
One of the best contemporary series in Gay Romance ever. I truly adored this series, and wish it was full length novels, but I am happy overall with the products. Spencer & Andrew were adorable, amazing, and so hot together. I found it real, funny, and even cried at moments. I really do think N.R. Walker hit this out of the park this year with this series. Give it a try, you won't be mad!
Remember that 1 of 2 comment about the authors above, well this is the other one. JLH introduced us to a brand new series and it was astounding from the very beginning. Love the idea of witches, familiars, historical's and mm in New York City. It was a super fun read, slightly lighter then her award winning Whyborne & Griffin series. I do think people will appreciate how authentic she is in her research. I cannot wait to 2017 to read more from this series.
One of the best series to date and I've highly rated all of them. This book though is super special to me. It was lite on the hockey, (I'm still clueless) and focused more on the relationship aspect. Plus I love Russians characters. It might seem cliche, but I feel like they are so more passionate and emotional. Stoic, but passionate. Misha could never disappoint me. I feel like Avon had an amazing year in writing, you can tell by all the highly rated stories she's produced and all her glorious goodness and words. Plus she rocks big time.
Cara Dee is one of the few writers that I read that can write such realistic fiction. I'm always able to connect emotionally with her characters and this book was no different. The reason why I find her writing so humbling is because she's one of the most relatable voices in this genre that I read. She writes about perfectly flawed characters. Dominic & Adrian stole my breath away from the very beginning. It's certain books that you can go back and re-read again for the first time, and this is one I wish I can do over.
T.J. Klune is one of my favorite authors of all time. He's my go to crier author. If I need to decompress then I'll grab any book available and end up balling like a big baby. Wolfsong is a lot of people's favorite book this year. I can agree it's a top contender in my list as well. I've had conflicted emotions on putting it at #1 or #2, but the one thing I will say is its well deserved. In a year where shifters, and paranormal romance seems to take off in the genre it's on a shelf all by itself. T.J wrote a heartbreaking tale, but it was so good, authentic, and amazing. I can't think of much to say as of now about this, but if you need a reason why to grab it then go ahead and read my review!
New Author Alert: Yeah this happened, and made it on my list. Contemporary M/M book, and very romantic at best. Never read anything by K.E. Belledonne before and I was left feeling giddy as hell once it was over. I enjoyed the past and present scenes. Loved seeing them grow together and deal with wedding preparations. It's hard, so I enjoyed someone else misery! I got to use Sex and the City gifs in my review. Always makes a girl happy there.
Tee Hee!!! Dominic and Luke is where its at. Writing this now, make me want to go re-read this. So this was very different from book one, and just as good. At the end of the story I had to struggle with which book was my favorite, and as you can see they both landed on this list. I look forward to Hardwire the next in the series. I can't wait to get my grubby little hands on it. Oh and most of the scenes in this book made my day. Megtino had a good year with writing!
This book was everything. Tiffany Reisz is one of my favorite writers ever! I live for her pen game. It's something about her writing and the emotions she conveys to her audience. This book was a tale of sorrow, heartbreak, love, and devotion. I love the idea of the novel, and I think she did an amazing job with the characters. I guarantee you that you will never guess the ending, and I love books like this. One of the only good mf romance writers who I auto-buy and read.
This series just gets better and better IMO. I really enjoyed the first book, but this book blew me away. The writing, the plot, the chemistry!!! Everything was explosive. The age-gap, and I loved the Science Fiction spin on it. If you closed your eyes, then you can picture the entire novel playing out right behind your lids! I think this was a great edition for the Sci-Fi fans.
JLH has made it possible to love a series for so long when its about the same couple for more then 2 books. This is book 8 in the Whyborne & Griffin series. We still see the love these two have for each other, still get the strong Christine and loving Iskander, and a new couple on the horizon. I love reading this series because we learn something new each time, and get to fall in love with them all over again. It's definitely a comfort read series.
New Author Alert: When you can cosigned from the lovely Josh Lanyon then you are on the right path. This Mystery/Thriller was so good. It was super suspenseful with the right amount of romance. Out the woodwork I was enthralled with the writing, and the characters. Definitely an author to look forward to next year!
Well what did you expect? First of all its Raymond & David's book. If you don't know then Raymond was added to my Harem while reading Sunset Park. Anything he is in, does, and should be in I'll read. This was good as well. Another relatable read from this author. Hassell should us the sophomore year of a relationship that's what I'll call it. It's the stage after the honeymoon and real life starts affecting the time being spent together. Hassell definitely puts us through the ringer, but in the end love prevails.
Leta Blake kicked butt with her Will & Patrick series last year, but to fall up with another series was just crazy. Book one drove me to alcohol, and book two drove me to my secret stash of Hersey's nuggets. The feels and emotions were so heightened in this book. I don't know who I felt bad or worst for. I won't even go in detail since the series is ongoing, I just can't wait to see what's next for these two. Definitely a series to be on the look out for.
Anyta Sunday was a new author to me. For years I've been suggested books by her, but never got around to reading it. Well this sweet, witty story was a definite win in my book. It was really good. It was comical at times, and teeth pulling at others. I like the writing style of this author, and I really enjoyed the romance between Theo & Jamie. I love the growth of the relationship/friendship it's sweet and whimsical.
The book we've been waiting for!!! Soren & Kingsley. Kingsley and Soren were amazing. I highlighted the entire book it seems like. I have nothing to say about it, because I want to tackle hug Tiffany Reisz for doing this novella. I want to bow down and thanks her graciously for doing this. I've always wanted to see something special between these two. We know the history and love that they have for one another. If this series isn't on your Read list, TBR list or radar then get on it. Amazing writing from this lady.
I've had a great year with books. I've surpassed my reading goal of 350 and so far had read 450. Yeah, I am going to slow down big time next year. Reading for me is an escape. It takes away the grime, disruption, and difficulty of RL. It allows me to escape to other people's lives and rejoice in their happiness. It doesn't seem like alot of books considering I've read 450 books this year. I've put alot of time, effort, tears, and happiness into blogging. I really want to thank the authors, and  publishers for being kind enough for me to get early copies. I want to thank the blog followers for putting up with my quirky reviews. Plus I want to thanks my special group of girls! It was an honor to text, talk, email, and laugh with you guys this year. Reading has brought us together, and hopefully we can get the same enjoyment next year.
Giveaway
For a chance at a $20 Gift Certificate to Dreamspinner Press please comment below with you top 5 favorite books of the year.